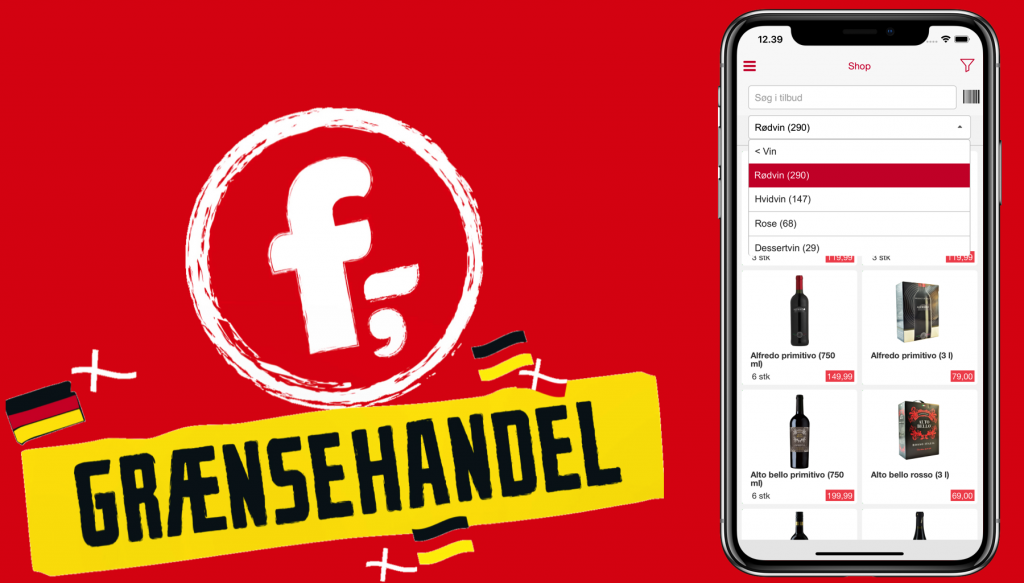 Fakta Tyskland is a retailer that provides their customers with an app to assist in-store shopping as well as placing orders before picking up the goods at the store. Fakta Tyskland chose to base their solution on Grosh – learn more about the Fakta Tyskland – Grosh case story below.
About Fakta Tyskland
Fakta Tyskland is a border shop situated on the German-Danish border, selling groceries, beer/wine, and candy with low German taxes (compared to the Danish taxes). Fakta Tyskland has 3 stores offering both in-store shopping and pre-ordering for pickup at any of the 3 stores.
Why Grosh?
Fakta Tyskland is part of the Danish Coop group, but they have their own separate IT systems. This meant that no existing app from Coop could be used off the shelf, and that a white label solution based on a standard app was the simplest, fastest and also least expensive option. Hence Grosh was chosen as the basis for the Fakta Tyskland app.
Delivery process
Compelling Software has a standard process for delivering a white label app and this was followed. This primarily means a number of deliveries from Compelling Software to the customer, as well as a couple of deliveries by the customer. The process is iterative, meaning the app is quickly delivered into hands of beta testers, and then refined until it is ready to ship.
Software vendor deliveries
A branded app with customer's colours, logo etc. In the Fakta Tyskland case, the branded app was delivered within a couple of weeks, which allowed Fakta Tyskland to start beta testing.
Various functional app changes agreed between the parties were developed. For instance, Fakta Tyskland wanted to provide easy access to their "Special offers" pdf file from the app menu.
In parallel with this, a number of integrations were developed:

Product catalogue – fetched from backend system every night
Stock levels – fetched two times per hour from POS system
Send orders – sent via ftp to POS system
Branch locations and opening hours – fetched from backend system
Newsletter signup – mail automation integration
Customer deliveries
Supply texts and graphics to be included in the app. The app has a primary audience in Denmark, Sweden and Germany, so 3 translations were in-scope. Fortunately, the app has been fully translated to 13 languages, including these, so that task was quite easy. For some screens, Fakta Tyskland decided to replace texts and graphics with their own. This was an iterative process, such that new material from Fakta became available in the next beta release, making it possible to evaluate the changes.
Supply text and graphics to be used in Appstore / Google Play. In cooperation with Compelling Software, keywords, titles, descriptions etc were delivered by Fakta Tyskland towards the end of the project.
Timeline
The contract was signed in July 2019, and initial development and integrations were completed mid October 2019. Before launching the app, Fakta Tyskland decided to order some extra changes which took a couple of weeks to complete. After beta testing of these, the app was launched December 5 2019.
After launch
After the launch, Fakta Tyskland has used the Grosh ticket hour system. It lets you buy development capacity that can be used for various changes identified along the way. This means an authorized customer representative can quickly initiate tasks without the hassle of invoices and other paperwork, making it easy and effective to improve the app. On top of this, the Compelling Software continually improves the app based on end-user feedback to the regular non-branded version of Grosh. Under the maintenance agreement, the company also performs various bug fixes. Both types of improvements automatically get included into the branded app whenever the customer decides to ship an update version of the branded app.
We're happy with the app and our customers are using it more and more, says Fakta Tyskland marketing manager Lars Niedrich.
Ready when you are!
If you are considering getting your own shopping or pre-ordering app, keep us in mind. We can deliver an app that in the long run will be much cheaper and easier for you to keep running than a self-developed solution.
We keep developing the standard Grosh app for the mass-market, but also hope to get many retailer chains aboard in the 30+ countries we operate in. This means costs for b2c specific functions in the app can be shared and the solution will get even more refined and improved to the benefit of all retailers. This means you will be able to innovate your customer relationship based on ideas of other retailer chains across the world – retailers that are in a similar situation as you.
We are ready to help when you are ready to get your own app – so make a mental note about Compelling Software. We are ready to help you when you are ready to get started 🙂
Kind regards
The Grosh Team